It's been a crazy couple of weeks. We had a great trip to Atlanta for Lauren's Run, made it home for Iz's 15 month checkup (she's doing great -- off the chart), and then had a bounce back appoint for her a couple of days later after she kept a high fever for 2 days and then started with tummy troubles. We don't like Iz being sick, but we'll sure take normal kid illnesses!! NORMAL is good. She was sick for a good 4-5 days, but was well in time for Mother's Day. We had a great day and it included Iz's first experience with the sprinkler. That was QUITE fun!! Apparently Iz shared her germs w/ me, so I've been down and out for the last couple of days. I think I'm on the mend and now we're hoping Tre's avoided it!

Not much more to write tonight, but I thought we'd share some pictures.



This picture just cracks me up!!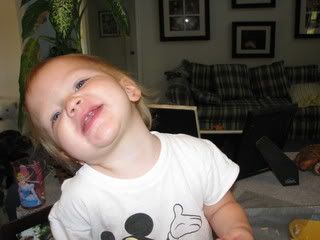 Actually, this one does too!



Bubbles are serious business (at Lauren's Run/the CURE picnic)



and they taste good too



What's a girl to do while Momma's cooking dinner? Empty her cabinets and climb in of course!