We just got home from spending a few days in Atlanta. The new Ronald McDonald House at Egleston (sister hospital of Scottish Rite) had it's grand opening this week. There were a couple of open rooms at the RMcD House that we always stayed at and we actually ended up staying there and catching up with old friends since no other families needed them. It was funny to see Izzy running through the kitchen and family rooms. She immediately took to Cari (the house manager) and within minutes they were chasing each other through the house just like Catie and Cari used to do.

This trip was meaningful for lots of reasons. A very special couple (I'm not listing their name here, b/c I didn't talk to them about writing this) donated a room to the new house in Catie's memory. We met them at a RMcD House Golf Tournament several years ago. Catie fell in love with them and I think she sat with them for most of dinner. These sweet folks introduced her to cherries that night and she kept them busy running to the drink table to get more!! It was too funny. This couple is so sweet. Their kindness and sweet packages for Catie (which almost always contained a jar of cherries) always made us smile!! It was nice to get to see them again this week. I don't think words could ever convey to them how much their very generous donation in Catie's memory means to our family. We will always, always be grateful.

The new house is absolutely beautiful!! There are 40 rooms and 10 transplant suites. Previously transplant patients (organ and bone marrow) have had to stay at hotels following transplant b/c of the need for isolation. They will now be able to stay at the RMcD House. This will be so much more convenient and better for families. I'm really thankful for this addition to the house.

Just a couple of pics from the week...



Izzy was fascinated with Ronald McDonald. I had to start avoiding him b/c if she saw him she wanted to stay with him.



Izzy with Cari -- her hair is just getting more and more blonde



Sign outside of the room donated in Catie's memory -- the rooms are gorgeous!!!



Oops, she spotted Ronald again!



Sweet friends at the grand opening -- nice one of me HAHA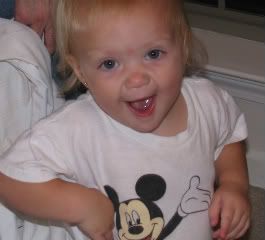 Happy girl

Thanks for checking in!