At the moment Ms. Izzy is alternately attacking her Leapfrog table and dancing to the music coming from it. She has quite the cute booty shake! We've started decorating for Christmas (no tree yet) and she loves the lights (which translates to she wants to eat them!). She loves all the singing animals that were Catie's and she wants them singing non-stop. The really funny thing is her grunting and protesting when they quit singing. She has a new wrinkly nosed facial expression that is absolutely adorable and can come out when she's happy or mad. Baby food is a thing of the past (even though she still only has 2 teeth). She won't touch the stuff and we're anticipating the switch to milk in a few weeks. She only woke up ONCE last night!!!!!!! She's discovered Catie's kitchen and though she's not pretend-cooking yet (though she will pretend to give you a bite of food), but she loves playing w/ all the stuff in it (translation: spreading it all over the kitchen and great room floors!). She's got several words (mama, dada, baby, book, papi, dog, Gaga, and a couple of others) and you can just watch her absorbing words as you say them. Her wave is quite exuberant and I'm quite certain it will give you a black eye if you get in the way of it. She still thinks chewing on paper is fashionable and will "run" from you when you need to do a mouth check! Obviously, she is keeping us on our toes and keeps us giggling! There is no rest when she's up and on the move and that's fine with us (so long as she lets us sleep at night!).

Totally didn't plan to do Santa on this day, but there was NO line and the picture disc was half price (which is still outrageous!), so we had to stop!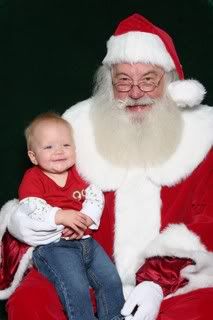 We'll update again the next time we're not in chasing mode!!