We had Izzy's Baby Dedication this weekend. We decided several months ago that we wanted to do it at the beach, so on Saturday that's where we headed. It was a beautiful day. A little on the chilly side w/ a bit of a brisk wind, but it was gorgeous. We were on the south end of Tybee and it was low tide... a favorite time at the beach for our family. I can't tell you how many hermit crabs we've chased and sting rays we've watched with Catie at that time of day at Tybee... I can't wait till next summer to start sharing all those wonders with Izzy.

Bro. Larry read a portion of Psalm 139 (one of my favorite passages) and I read a book called You Are My I Love You. Tre' and I committed to raising her in a loving home and helping her come to know and love God. Bro. Larry presented her with a letter to be opened on her 12th birthday.... 12th birthday... that just sounds so amazing to me... to think of her getting to live to be 12. I know that sounds crazy, but we know nothing is guaranteed for any of us... Not that we expect anything to happen to Izzy... I had just never let myself think that far ahead... So now, we have a letter for Izzy to open when, God willing, she turns 12...

Izzy was so sweet and cute and just waved to everyone standing in the gazebo looking out over the ocean with us. She is quite the social butterfly!! She just waved and grinned and grinned and waved... and blew raspberries during the prayer. That's our girl! :)

She is so curious about words right now... she's saying dog, baby, book, and papi now. She doesn't pronounce them perfectly (leaves g off of dog or k of of book), but she says them intentionally when she sees them. I took her papi out of her mouth this morning and she looked at me and said, "pap. pap. papi." She LOVES books and is continuing to keep us on our toes. We're loving it!

Below are some pics from Sat.




Izzy and Daddy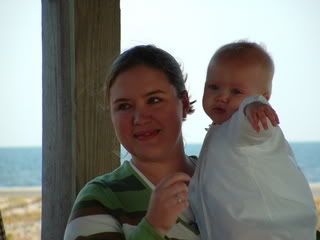 Izzy and Momma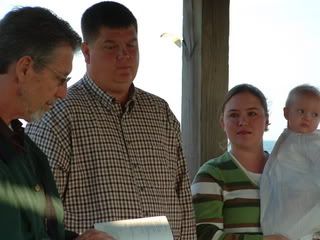 the 3 of us with Bro. Larry




the 3 of us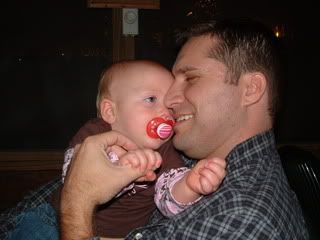 snuggling w/ Uncle Chad (she was so funny and just kept rubbing her face against his)