I swear, Izzy B is growing by the minute! She has definitely decided that walking is more efficient than crawling now and she is all over the place. She's even doing well walking outside in the yard. She loves being outside, and the weather has been gorgeous for the last couple of days. She loves having her hands to carry stuff has she walks and this week I bet she's walked 5 miles around the inside of our house! :) She's quite the dancer when the music comes on and she continues to entertain us and keep us laughing. Her favorite games continue to be chase and peekaboo. She's a tornado at times and can completely clutter up a neat and clean room in about 90 seconds flat. I thought I'd post some recent pictures.



Bathing in the sink at the beach house


Crashed for a nap at the beach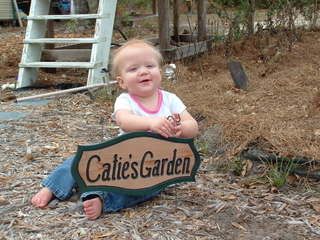 Near Catie's garden w/ the sign our neighbors gave us.



Tonight in her first silky nightgown! Catie (who LOVED her silkies) would have been so proud!