Slowing down enough tonight that I'm really missing CatieBug. It's been so busy lately w/ the elf stuff (update soon -- good stuff) and Christmas preparations and keeping up with Izzy that I haven't been good about taking time to process things. One of the things I've learned in the last 11 months is that I have to have down time to process her loss. Sometimes it's a sad time, sometimes it's good remembering (which is always bittersweet), sometimes it's reading through old journals, sometimes it's looking at pictures... sometimes it's admitting the mistakes I made as her mom (I don't like those nights, but it's impossible to be a perfect mom, so there are always some regrets even when you do your best)... It's the work of grief and it has to be done. Tonight, it's a picture night. I'll include some below.

In some ways, the fact that Catie was ever here seems almost dream like... I hate that... Tre' and I are going to watch last year's Christmas video sometime in the next week or so. I haven't heard that sweet voice in a while, and I've got a hankering to hear it. Tonight's one of those nights that I'm just struck by the unfairness of it all... not that I expect life to be completely fair, but it's just really unfair. I know there is a purpose in it all -- or at least that God is using bad for good, but I just wish there had been a different way. I wish I could do it all over again and soak it up even more. But there is no going back, only moving forward and holding on the hope of a day when my family will be complete.

We miss you sweet girl, especially at Christmas. Last year, you were sick so much, but we still managed to find smiles and laughs and we had so much fun baking cookies and building gingerbread houses. You were my present wrapping side kick -- my master taper and label sticker. I miss your help this year. Iz is enjoying it all, but she's a bit young to help me wrap (you would laugh at what she does with wrapping paper). I could seriously go for a Catie hug and then eskimo, butterfly, daddy, catie, and nik nik kisses!! I'd even take those NikNik kisses from your stinky feet!! ;) I can't imagine what Christmas is like in Heaven... I'm betting it's something though... Hey -- what do you think about these silly elves? Can you believe all that has happened and how many kids are enjoying them like you did? It's nice to have a way to honor you and remember you tangibly this Christmas. I think we've discovered my new favorite project. We're thinking of you, like always, each and every day. Love you sweet girl...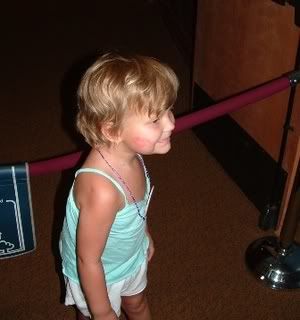 Grinning after meeting the princesses at Disney



Laughing w/ Mayor Clayton as he tucks her in at Give Kids the World



This picture is PURE Catie -- she had rubbed body glitter all in her newly grown hair (like hair gel -- only different) -- she thought is was soooooo funny



This picture is pure Catie too! This is Christmas morning last year -- can't remember if I've shared it before or not... She's drinking her coffee (black of course) from her new Hello Kitty coffee pot and playing UNO Attack -- her favorite -- for Catie, this was Heaven on Earth

************************************************************************************

Izzy continues to grow and learn and make us laugh. She's discovered the wonder of destroying block towers and she thinks it's hilarious; she could do it 50 times and would still laugh the 51st time. She loves to be chased and is so fast when she crawls. She's holding on to our fingers and walking and cruising between furniture. She'll stand for a few seconds on her own, but only if she doesn't realize she's doing it. She's opened her first Christmas presents and loved the paper and ribbons. She's still working on the sleeping through the night bit... it's going to happen one of these days! She really is so much fun... and I never have a problem drifting to sleep when my head hits the pillow after a day of chasing her! It's hard to believe she'll be one soon!!!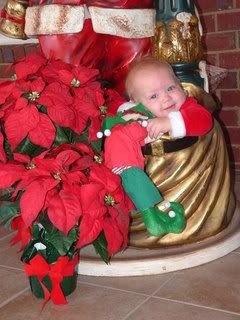 Iz w/ our elf



Merry Christmas!!



I LOVE this picture of Izzy!! You can just see the pure joy bubbling up from inside of her!