and her name is Izzy!

Yes, when I made it home from a trip to Atlanta weekend before last, our girl was on the move. Tre' and mom were here with her while I was gone, and Tre' kept telling me she was getting around. Sure enough when I got home, she was doing it!




I swear, every day, she's a little faster...



and a little more proficient!



You can see her scanning the room and the look in her eyes says, "hmmmm... what can I get into next?" Then her face will light up and she's off! Her favorite things to go after are our plants, electrical cords, and any little speck of anything on the floor!!! She also loves to empty baskets, so my magazines are looking pretty beat up!! But boy, is it fun!!! It definitely is keeping us on our toes!

Don't you love a baby in overalls?



I sure do!!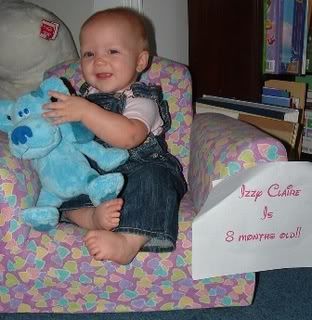 And... all that work can wear a gal out!
It was naptime this morning, and I was fixing a bottle for Iz. I walked over to pick her up from her jumper and this is what I saw (mind you, she is still bouncing herself here, not full-fledged through the roof jumping like usual, but she is still bouncing when this picture is taken!).



I know I should have picked her right up, but it just cracked me up that she was bouncing herself to sleep, so I snapped a couple more pics.





She's rarely still, so I guess it's appropriate that she can even manage to move while she's sleeping!!

Speaking of sleeping, I'm headed that way!