Well... in getting ready to do the rest of our trip tonight, I've realized that I don't have any digital copies of the majority of our pictures from Disney. I have hard copies, but not digital ones... My hard drive crashed at the end of the year last year ... So I'm going to try to scan pics in at some point and give you the full deal... for now, here's what I have left at my photobucket account.

Day 3 was Animal Kingdom and MGM. We really had a good time at Animal Kingdom... We hit the safari first thing in the morning and had really great luck seeing all sorts of animals. Catie liked that. The other thing we really loved there was the Lion King Show. Catie was a big Lion King fan, so she enjoyed seeing all the characters and watching the story play out right in front of her (we were on the front row, and they were RIGHT THERE!!). She got her hair wrap here too!! The lady said normally she didn't do hair that was that short, but she did it for Catie and Catie was so proud that she had enough hair to get one!! At MGM, we hit the Playhouse Disney stuff... Bear in the Big Blue House and, of course... JoJo and Goliath and the Little Einsteins. We also went to the Little Mermaid show... this was before it became a favorite movie, but she liked how it rained on us and the wind blew and all. All these pics are hard copy right now, not digital. She was so funny meeting JoJo and Goliath! That night we met good friends of ours for dinner at the Rainforest Cafe (very cool) and checked out LegoLand in Downtown Disney.We made it home in time for a tuck-in from the 6 foot tall rabbit Mayor Clayton, head hare of all things at Give Kids the World. We have that on video and it is so funny. She is giggling and it is from the belly. I'm so glad that Tre' taped it.

Our last full day in Orlando we went back to Magic Kingdom. We had so much fun there that we decided to totally skip Universal (and a lot of the stuff there was for older kids). I'm so glad we did b/c this was the day we spent meeting all the characters... The look on Catie's face was pure magic. We did characters for the majority of the day and it was so fun. We hung out forever in Toon Town (and she ended up getting her face painted for her "famous picture") and also spent some time in Fantasy Land and Frontier Land (if I'm remembering the names right). We ended the day with a parade just before we left the park.

Here are pics that I do have... I wish I had more of them!!



Playing dressup at the enchanted castle at Give Kids the World



With Stitch



Can I feel your nose?



With Minnie Mouse



With Mickey



With Goofy
Our favorite visit w/ Goofy was when he came to Give Kids the World one morning. He rode the train and Catie got to ride in the car with him. He was so, so silly and she was laughing so hard at him. I can hear her now saying, "that silly Goofy."



All the characters were so good to Catie and took their time with her... but these were great... this Minnie was so sweet. It was hot, can you tell?



Getting tucked in by the Mayor himself.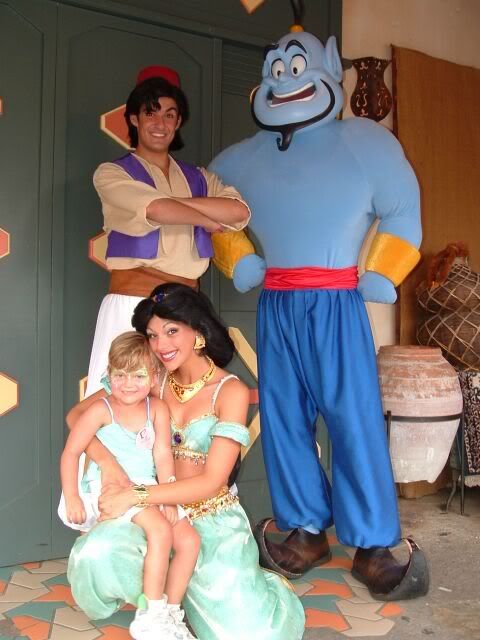 With the whole crew from Aladdin. The Genie came out especially for Catie, he had just gone inside (he had to be frying in that costume), but he heard she was out there and wanted to meet him, so he came back out. Aladdin gave Catie a small bead and told her it was a very special jewel that Jasmine had given to him when they first met, but he wanted her to have it... I wish you could have seen her glow!!! She was so amazed.... like I said, that place is magic!



Ok, this one kind of captures the trip for me. You can't even see Catie's face, but you can tell how totally mesmerized she is... Belle was so sweet to her (and she was already in love with that movie by then).



I know this picture is everywhere, but I can't do a Disney update without putting it here. It was actually taken a year ago today. Her daddy was holding her while we watched the parade. She so looked the part, hair wrap, face paint... I took about a dozen pics and thank goodness one came out just right.

This is how I like to remember her... tan, enough hair to flip out a little, looking like the picture of health... of course the ironic thing is that the tumor was growing even then... who knew... We certainly didn't that day and I'm so glad we didn't. As far as we knew, we had 4 more rounds of chemo and we were going to be done. That allowed us to enjoy the trip so much more. She was feeling great, looking great, acting great, moving great... It was truly the perfect time for us to go and I'm so grateful to Make A Wish, as they allowed us to make memories that we treasure so much. Catie truly had the time of her life (and we did too). I recently heard someone say that memories are a lousy substitute for the real thing, but when it comes to those we've lost, it's all we've got. So, I'm very grateful for these memories.