We fell off the planet (or at least the internet) for a few days! But now we're back! Not much tonight (I'm tired!!), but I thought I'd share a few pics that are a little better than the ones in our last post!



That's looking a bit like a mischievous grin! =)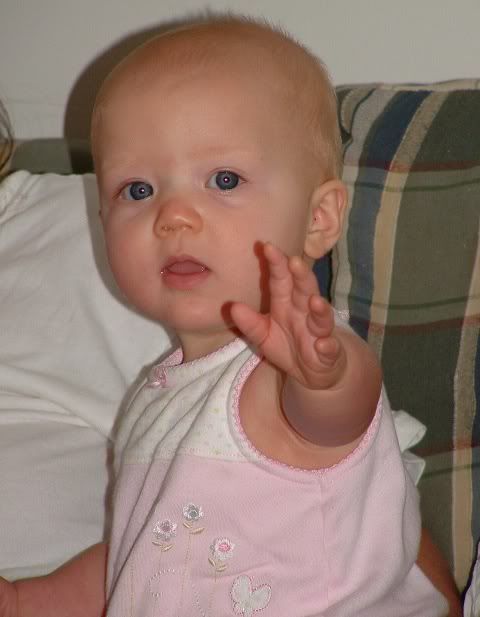 Seriously, she's got some blue eyes.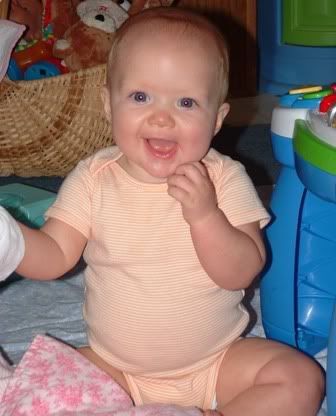 She is one happy girl. If she's in a fussy mood, you know something is up.

She may be one happy girl, but she is NOT a good sleeper! She'll put herself to sleep at nap and bedtime, it's just that staying asleep all night that's killing us. She had hit a good spell where she was only waking once a night. That is TOTALLY doable in my book. Any suggestions? Don't give me the "cry it out" method though... This momma's not cut out for that... at least not this year.

Oh yeah... some folks had asked for links to see the pics we got done.
1. to www.photographybykristinpate.com
2. Click online previews
3. click hardeman and wilkins
4. password is Natalie (cap sensitive)
There are A LOT of pics there. My favorite ones of Izzy are on the last page.

Also, if you just like to look at pictures...
1. go back to online previews
2. click on the pulldown menu (below can't find your event)
3. towards the bottom of the pulldown menu, click on Catie Wilkins
4. click view event
5. password is catie (cap sensitive)
There are 2 albums there, Catie's last session and Izzy's first. Both have some really amazing pictures.