We have been enjoying the summer! We've been to the lake and to the beach... soaking up some sun and water and going through lots of sunscreen -- you gotta love the spray stuff. Iz has enjoyed the water and spending time w/ folks she loves. She's definitely easier at the beach than at the lake... at the lake the water gets deep so quick that you really have to stay right on top of her. At the beach, we usually go out at low tide -- Tybee's south end is sooooo great for little ones at low tide. There are great tide pools and the adults stay cool in the water while the kids run around and splash and, as Izzy loves to do, cover themselves in sand.

Some pics to share...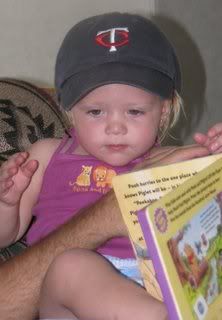 Checking out a book w/ Uncle Chad (he and Aunt Tati are expecting their first baby in November, a boy, we can't wait!!)



Giving loving to Natalie (who just turned 1!!)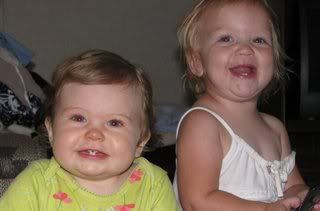 If you only knew how many pictures we had to take to get this one!!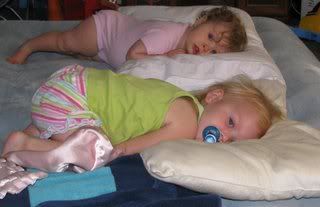 And check this out -- they're both still!!



Hanging out at the lake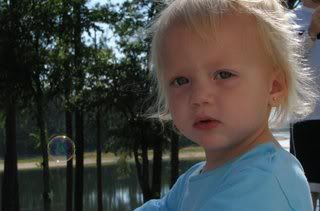 Check out that wild hair



With Sara Beth -- and escaping from the picture



We were going for a cute pic in their matching pjs -- Sara Beth finally just held her head towards the camera b/c Iz kept escaping!!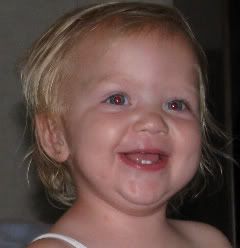 Happy Girl!!!

The other reason I haven't posted much lately is b/c of some computer issues. My keyboard was going a little nuts, kept typing numbers instead of letters. So when Tre' brought his laptop home, I would catch up on e-mails, but no time for blogging. And... I kept falling asleep at night before I had time to call Dell to see what the deal was. So today, I decided to call Dell while Iz was napping. The nice man at Dell said, "have you tried pressing the number lock key on your laptop?" Oh my gosh!!!!! It seems that at some point, about 3 weeks ago, Iz hit the number lock key... and so, I haven't been able to type on my computer for THREE WEEKS b/c I didn't hit the number lock key!!!!! :) Can you believe that? Too funny! Oh well... you gotta laugh!!! It was easy to fix and we're back in business now!!