Monday morning started off with a bang at our house. A certain little girl woke up on the wrong side of the bed and NOTHING would make her happy. I tried everything I knew to do to diffuse the oncoming tantrum -- holding her, singing (scary sound, I know), distracting her, ignoring the fit.... nothing was fixing what was ailing her. I finally decided to just put Iz in her crib to give her some time out and hoped she would chill with no audience to watch the drama. She continued to cry (throw down is more like it) and then I heard a THUMP! She never broke her rhythm crying, but I knew there was nothing in her crib but a blanket and blankets don't make thumping sounds when they're chunked out of cribs... Blankets might not, but little girls do! I walked into her room and she was toddling toward me still bawling (I'd have been bawling by then too!). She had climbed out of her bed and hit her head on a nearby chair. She grew a goose egg on her noggin quite quickly and managed to see how fast her momma's heart could race with worry. So... I'm thinking the crib is getting packed up and sent to the attic!!

Of course we had pictures scheduled for that afternoon!! Quickly rescheduled those, but definitely took pictures of my own so that when her little spitfire does the same thing one day I have proof that it's in the genes! I was sure we were going to see every color of the rainbow around her eye, but little ones heal so quickly! You can still tell she bumped it, but it's not nearly as bad as we thought it would be.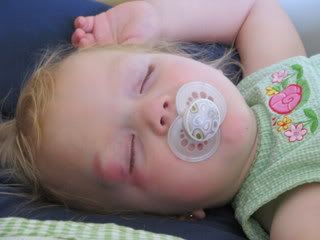 Day 1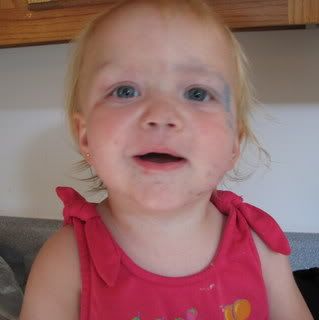 Day 2 -- Notice the blue sand on her unbruised eye -- I think she was trying to make them match! We went straight to the bath after this, she had brought half of outside inside with her.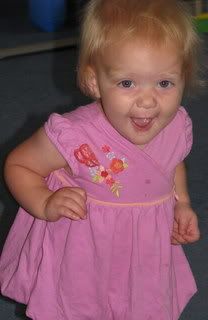 Day 3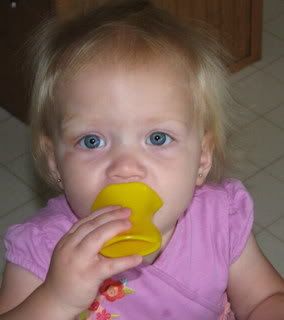 It hasn't slowed her down one bit! She's as busy as ever and keeps us laughing most of the day!