Oh, aren't birthdays fun? We definitely savored this one, Izzy's first, and who are we kidding, birthdays will always, always be savored at our house. Catie missed out on her first birthday party (her first surgery was on her birthday), so this day with Izzy was extra sweet for many reasons.

Now on to the pictures!!


The menu was chili and hot dogs -- Izzy's first taste of a hot dog -- she thought it was good stuff!



Iz with Aunt Nik Nik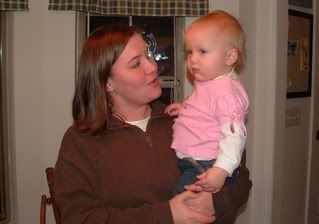 Not so sure about lots of people singing Happy Birthday! Remind anyone of a certain big sister? This surprised me so much. I thought she was going to eat it up. She didn't cry (though I thought she was about to), and was fine once the cake was in front of her (though she did think it was weird that everyone was standing around watching her eat).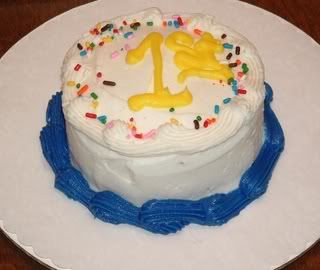 Izzy's smash cake (the big cake had Elmo on it)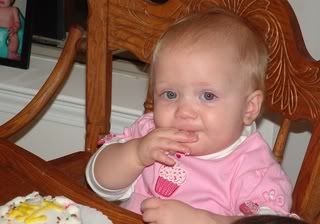 Mmmmm... this isn't bad.



Yes, she shared w/ Joey. (I can FEEL you cancer moms out there cringing :).



Now we're talking!



The traditional Aunt NikNik and the messy nose picture. If you've followed us for very long, you know that NikNik is always putting stuff on the noses of my kids! This is actually Iz's first experience, but trust me, there will be pics in the future w/ paint and cookie dough and play dough... you name it on her nose from Aunt Nik. Iz reciprocated and painted Nikki's nose too. It's only fair, right?



Look at her fingers!



My work here is done!

1st Birthdays are good stuff! It was quite fun watching Izzy enjoy her big day.

One last picture. Izzy has this new face that she likes to make where she scrunches her face up and her lips pooch out. She breathes in and out through her nose quickly and it's so funny! We can do it to her and she'll do it back to us.


Silly Girl


UPDATE ON MY DAD
Thanks for your concern for my dad. He has made marked improvement. He is breathing well and was moved to a regular room the middle of last week. He continued to receive dialysis through Saturday. Since then, he has not needed it. His kidney numbers are not normal, but are finally improving ON THEIR OWN!! He still has a ways to go, but we are very optimistic that he will recover full kidney function. We are very grateful for this as he was in a very scary place two weeks ago!