Well, I thought it was high time for an Izzy update. She's now sporting earrings, loved Christmas, and yesterday she took her very first steps. She's not walking, walking yet, but she's definitely ready!



Chewing on ribbons (and paper and bows and boxes and...) was a definite highlight this Christmas!




And you always have to have a bow on top of the head picture! The first time she had one on her head, she was so funny trying to figure out exactly where it was and how to get it off. I have to admit, we had a few laughs at her expense, but it was too cute.



This Santa thing is pretty fun!



Fun stuff!



Here she's sitting in her wagon reading a favorite book.



Blue eyes



You can see Uncle D counting steps on his finger behind Izzy. The most she did consecutively was 2, but it won't be long before she's walking all over the place!



Check her out!



Fun with my cousin, Natalie



Happy girl!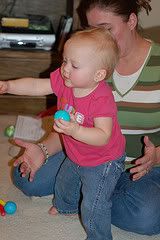 Big girl



No box is gonna stop me!

She continues to be so, so, so busy and so much fun. Her laughter is the joy of our hearts and we love it when it fills our house. I can't believe she's almost one!!!

Thanks for checking in!