I have to admit that it is a relief to be past all the "firsts." I know holidays and significant Catie dates will always be tough, but I'm glad to be done with all the first times. The weather for the end of the week seemed to match our mood... gray and rainy. No snow down here, just cold, wet, rain. We enjoyed time w/ friends and family who shared our longing and of course hit Cracker Barrel as planned. Catie helped us out none w/ the weather when we arrived at the cemetary (I told her she should have some connections by now :), the rain was still coming down, but we let some balloons go none the less. Iz watched from the car and just kept grinning and waving to us. It made me think of how that's how she's been all this year. Completely and joyfully oblivious to the hole in our home and always there to make us smile and laugh. Tre and I have said a thousand times that we don't know what we would have done had Izzy not been sent our way when she was. After the cemetary, a few of us hit Krispy Kreme where the hot sign was not on, but the doughnuts were still tasty. (Have you noticed how much of our survival of the day involved food??? -- that's got to explain my waistline.) Iz liked the cream-filled kind!

My dad is improving. He's off the vent and doing well with his breathing. His kidneys are showing early signs of possibly trying to kick in and work. We still welcome your prayers for him as I have a feeling the road to recovery may take a while.

Thank you so much for all of your sweet notes, cards, calls, and encouragement. You truly make such a difference. When we arrived home on Sat. my inbox had several e-mails w/ pictures from some of our cancer buddies who had remembered our sweet girl with buttered biscuits of their own at Cracker Barrel. I'll include some pictures they shared below along w/ Iz enjoying her doughnut! Gotta run -- there's a birthday to plan!!!



JoBeth and all in Moultrie



Tab and her crew in Utah



Atlanta crew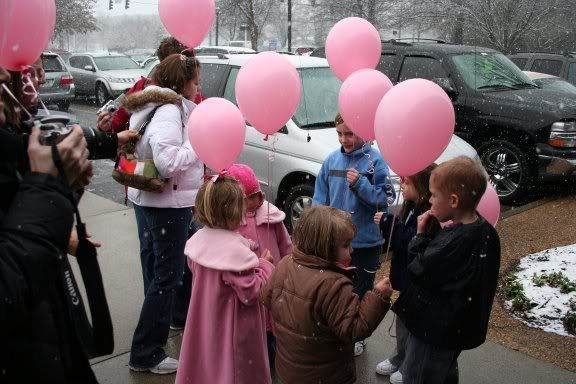 Atlanta crew letting balloons go in the snow -- there are 4 CANCER SURVIVORS in this picture!



Ummmmm... doughnuts are good stuff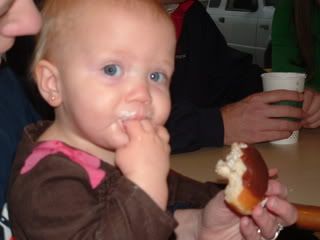 But the cream is really good