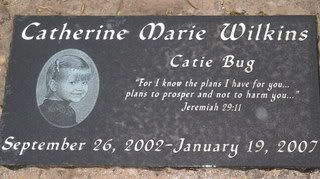 Oh sweet girl,
How on earth have we made it a whole year without you? Without your sweet voice, your catching giggle, your mischievous grin, and your sweet arms around our neck. We miss you as much today was we did this same day last year, but we have definitely learned a bit about grief and missing. I think, for me at least, the biggest lesson has been in how to let grief be a part of the every day without letting it govern my life. I've learned that I can miss you and still find happiness in my days. Life will never, ever, ever be as sweet as it was before you left us, but I know that wallowing would not make you proud. There are days that we wallow, but there are days where we do a decent job of trying to live like you taught us... full even when things are hard. Who knew how many lessons a Midget (I miss hearing your daddy call you that) would teach us.

For Daddy and I both, yesterday was harder than today seems so far. You died shortly after midnight, so it was the 19th, but to us it felt like the 18th. I started the day w/ a chicknen biscuit with chicknen on it. I so wished I was ordering you one w/ your kid's sweet tea as I drove through the drive through. Ms. Alice and Mr. Sam stopped by on their way through town which was such a nice surprise, and then we went to Aunt Lisa's for dinner. Chocolate cobbler was for dessert and I think that will be tradition every January 18th from here on out. Today we'll eat lunch at Cracker Barrel, of course, and then head to the cemetary. Your marker is finally in place. Hopefully the rain will let up so we can send some balloons your way.

I wish today wasn't significant, because if it wasn't, you'd still be here with us. But we're not going to focus on what happened on the 19th today or even on what happened Sept. 26, 2002, the day you were born. We're going to focus on what happened in between... all that good stuff and all the memories we have of you and on how full of joy you are now. GaGa sent me a link yesterday called The Dash. I thought it was quite appropriate for this weekend. So today, on your very first Heaven Day, we'll celebrate your dash and be grateful that we were a part of every bit of it. We love you sweet girl, as much today as we ever have. Send some frogs or butterflies our way... (and convince that sister of yours that walking is NOT scary at all -- she's so ready but is a bit of a chicken right now!! :).

The Dash

We love you!
Momma, Daddy, and Iz


UPDATE
Thanks for all your prayers and sweet notes about my dad. He is currently off the vent and was able to have some liquids last night. His kidneys are still not working, but we hope that will improve in coming days as well.